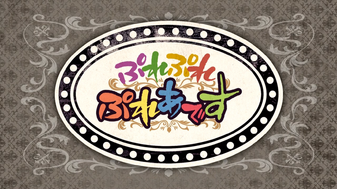 Pure Pure Pleiades (ぷれぷれぷれあです, Pure Pure Pureadesu) is an anime spin-off of the Overlord series. Pure Pure Pleiades first aired on August 4, 2015 to September 22, 2015. This was the first season of the spin-off series, totaling eight episodes, each three minutes long. A manga spin-off, Pure Pure Pleiades Yonkoma, was released on March 18, 2017.
Pure Pure Pleiades 2 was aired alongside Overlord II on January 16, 2018 to April 3, 2018. The second season had a total of thirteen episodes, however the running time for each was one minute and a half.
Pure Pure Pleiades 3 was aired alongside Overlord III on July 10, 2018 to October 2, 2018. The third season had a total of thirteen episodes, and like its predecessor the running time for each was one minute and a half.
Pure Pure Pleiades
Ainz accidentally uses the magic item Total Maniac on himself. The effects of the item restored his emotions and left him in a bewildered state. He tries to pretend that everything is fine. But then the battle maids, the Pleiades, have arrived before him and await to receive their next orders, buuut...!
Pure Pure Pleiades OVA
Unlike the main Pure Pure Pleiades series the first OVA is thirty minutes long, divided into six segments. Two subsequent OVAs were released as specials alongside Overlord II. Each were around thirteen minutes long. A fourth was released after Overlord III with a duration of ten minutes.
Pure Pure Pleiades 2
Ainz finds himself in another reality where he is the CEO of a company known as Nazarick. His comrades, NPCs are all his executives and employees.
Images
Episode Title
Air Date
Episode

Dawn of Confusion
混乱の幕開け
Konran no Makuake
January 9, 2018
1

Staff in Another World
異世界の社員たち I
Sekai no Shain-tachi
January 16, 2018
2

Executives, Gathering
集う、幹部
Tsudou, Kanbu
January 23, 2018
3

Great Loyalty
凄い忠誠
Sugoi Chūsei
January 30, 2018
4

The Manager of Verdictt
評決の部長
Hyōketsu no Buchō
February 6, 2018
5

Those Who Pick Up
拾う者たち
Hirou-sha-tachi
February 13, 2018
6

Out of Order
ばらばら
Barabara
February 20, 2018
7

Customers' Feeling
顧客の思い
Kokyaku no Omoi
February 27, 2018
8

Soaring Spirits of People
舞い上がる人ら
Maiagaru Hito-ra
March 6, 2018
9

Oh Dear, I Wonder
おっとどうなんでしょう
Otto Dōna Ndeshou
March 13, 201
10

Jealousy
ヤルダバオト
Yarudabaoto
March 20, 2018
11

Introduction of Industry Takeover
業界動乱序章
Gyōkai Dōran Joshō
March 27, 2018
12

To the Dawn of Despair
絶望の夜へ
Zetsubō no Yoru E
April 3, 2018
13
Pure Pure Pleiades 3
Images
Episode Title
Air Date
Episode

New Melancholy of the Ruler
支配者の新たな憂鬱
Shihai-sha no Aratana Yūutsu
July 10, 2018
1

Shalltear Again
シャルティア再び
Sharutia Futatabi
July 17, 2018
2

Distant and Distant and Subtle Situation
遠離で微妙かつ悩ましい状況
Onri De Bimyō Katsu Nayamashī Jōkyō
July 24, 2018
3

Guardian First, Abbreviated
守護者筆頭、略して○
Gādian Hittō, Ryakushite ○
July 31, 2018
4

One of the Two Pioneers
二人の先駆者のひとり
Futari no Senku-sha no Hitori
August 7, 2018
5

Invitation to Liberation


解放への誘い
Kaihō e no Sasoi

August 14, 2018
6

The Daughter of a Man Tangled with the Trend


流行に絡まっている男の娘
Ryūkō ni Karamatte Iru Otoko no Musume

August 21, 2018
7

A Handful of Moe Elements


一握りの萌え要素
Hitonigiri no Moeyōso

August 28, 2018
8

Absoluteness


絶世
Zessei

September 4, 2018
9

Preparation for Solution


解決準備
Kaiketsu Junbi

September 11, 2018
10

Another Truth


もう一つの真実
Mōhitotsu no Shinjitsu

September 18, 2018
11

Great Confusion


大混乱
Dai Konran

September 25, 2018
12

MVP


MVP
MVP

October 2, 2018
13
Trivia
Albedo proposed the title of the show to be "Ai Ai Ainz-sama" (Love Love Ainz-sama).
Ainz said whatever he is thinking out loud a lot.
Solution's body shape didn't change even if she swallowed a human whole in the Light Novel and the anime, while in this spin-off, she became bloated.
Gallery
Click on the images to enlargen them.