This wiki is currently a work in progress!
WARNING: This wiki contains major SPOILERS! Read at your own discretion.
WELCOME TO THE GRAND LIBRARY OF NAZARICK

INTRODUCTION
Get Started • Create Article • Recent Changes • Rules & Guideline • Administrators
The Grand Library of Nazarick is a community wiki collectively dedicated to the OVERLORD (オーバーロード) series as a whole. This Overlord Wiki is a comprehensive and informative encyclopedia designed to cover everything there is to know about the Japanese fantasy novel, written by Maruyama Kugane (丸山くがね) and illustrated by So-Bin. Since it is a fan created and collaborated wikia, anyone is free to edit or contribute content. As a suggestion, you are highly encouraged to make meaningful edits and contributions that helps to keep various Overlord readers well-informed!
ABOUT OVERLORD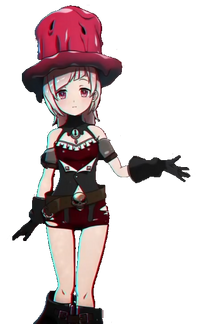 In the year 2138, the era of virtual reality gaming is thriving with different DMMO-RPGs. In the center of its popularity, was YGGDRASIL which garnered the most attention publicly. After an intense 12-year run, YGGDRASIL, the online game lost the vibrancy it once have and eventually, it was scheduled to be shut down in due time.

Within the game exists a guild, Ainz Ooal Gown, originally consisting of 41 members and credited as one of the top strongest guilds. Now with only 4 of the members left remaining in the guild, the other 37 were said to have quit the game. Of those 4, Momonga, was the one guild member who continues to actively play YGGDRASIL as their guild leader. He spent most of his hours and money maintaining their headquarters, which is the Great Tomb of Nazarick they worked so hard together to design in the past.

During the final day where the game was about to almost reach its end, Momonga send out invitations to the remaining guild members who are still semi-active. However, among those that did come apart from Momonga, only one happens to appear and stay around with him for a short while before logging off. Though saddened by the fact that they had to part ways, he accepts the grim reality that his friends have real life situations to take care of above all. As the last remaining player in the guild who was online, Momonga decided to continue staying logged on for the remainder of the game's time left, choosing to sleep within the Throne Room until the server automatically boot him out.

After the game shuts down, Momonga awoke to find himself still in the form of his heteromorphic avatar, an Overlord who will later on become "the most powerful magic caster in the world." Within the Great Tomb of Nazarick, he was met with NPCs who are beginning to have a consciousness of their own. In other words, he was transported into an entirely different New World as its own reality along with the various NPCs in Nazarick who have been brought to life after the transfer. Realizing the state and situation he is in, Momonga tried his attempt in using player functions, such as the chat, a GM call, or even a forced logout, but none of them seem to be accessible at all anymore. With no other options left, Momonga considers the idea of setting out on a long-term quest to learn whether anyone from YGGDRASIL had been sent into this New World with him, refusing to believe that he was the only player transported.

Realizing what his next course of action will be: Having no parents, friends, or place in society, this ordinary young man, Momonga went outside the tomb to explore, investigate and conquer the vast unknown new world with the help of his subordinates from Nazarick. Along the way, he takes on the name of Ainz Ooal Gown as a sign of respect to not only represent his former guild members who aren't around, but to also sent a clear message to any other players out there besides himself. As a result, Momonga step foot outside Nazarick and begun his exploration of the surrounding lands and regions in an attempt to figure out what has been transpiring until now. He tried to search for anyone or anything that could help him unraveled the mystery of this world's magical norms and rules which sets it apart uniquely from YGGDRASIL. At the same time, while also ensuring the safety of Nazarick and its denizens first over those who he have managed to befriend with throughout his adventures in the New World.
Featured Article
| | | |
| --- | --- | --- |
| | In the year 2126, a Dive Massively Multiplayer Online Role Playing Game or DMMO-RPG called YGGDRASIL was given an official release. It stands out among all other DMMORPGs due to its unusually high ability for player freedom. It gave players the opportunity to freely interact with the game world where they can explored the unknown. Read more... | |
So far, since February 22nd 2015, many of the articles that were created within this wiki's library all have its knowledge derived from various Overlord adaptations as their source. With help from the Overlords of the Wiki, we can work to make the Grand Library of Nazarick an even better and more credible encyclopedia for every Overlord reader out there.
Before contributing to the Overlord Wiki, please be sure to sign up for a free personal account first, or log in if you already have one ahead of time. There are plenty of benefits for doing so, as seen here. After that, you can get started and help out the wiki by editing typos, work on article stubs or leave feedback as comments for article pages.
Please keep in mind that over 50% of our Wikia visitors access content via mobile platforms such as tablets and smartphones rather than desktop. For that reason, there will be some custom templates which may or may not properly show on mobile devices. To make sure everything looks great to all visitors, follow our best practices.
If you need help, you could always refer to the Help pages, Wiki tutorial, FANDOM University or ask an admin whenever necessary.
Are you an experienced editor by any chance? If so, please check out the Community Page, Special pages, or New pages to see whichever areas of the wiki are in need of your assistance for cleanup.
Featured Quote
"
Ainz Ooal Gown, what kind of creature, what kind of magic caster are you?!
"
Poll
Which one of the following is your favorite story arc in the light novel series?
Community content is available under
CC-BY-SA
unless otherwise noted.