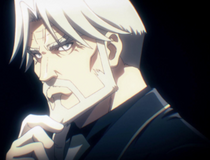 This article feels somewhat incomplete due to missing information. Unknown Intruder, the Overlord of the Wiki expects you to offer more details for the article along with fact checking it and giving citations to credible sources!
This article is a stub. You can help Overlord Wiki by expanding it.

The Half Elf God-kin is the fifteenth light novel volume in the Overlord series. Written by Kugane Maruyama and illustrated by so-bin. It was released in June 30, 2022. It details about Ainz Ooal Gown, Aura Bella Fiora, and Mare Bello Fiore's visit to the Elf Country. However, the country is facing a major offensive of the Slane Theocracy to finish off the elves and eliminate the Elf King.
Main Summary
Within the Great Sea of Trees, echoes the sound of roars. The upper echelon of the Theocracy, concerned over the Sorcerer Kingdom's rapid expansion, have decided that they must defeat the Elf King to better prepare themselves against the Sorcerer Kingdom.
At the same time, Ainz – out of paternal love – wanted to "help Aura and Mare make new friends." Using the need for a vacation as an excuse, Ainz and the twins set off on their journey to the Elven Kingdom. The Theocracy's planned offensive just so happened to clash with Ainz's visit to the Elven Kingdom, causing an uproar amongst the denizens of Nazarick.
Roused by the expectations that the King of Wisdom, Ainz, held for them, the twins are finally free to let loose in the Great Sea of Trees.
Full Summary
Spoiler Warning: Plot from the light novel details follow
Chapters
Prologue
Chapter 1: To Take a Paid Vacation
Chapter 2: The Travelling Scenery in Nazarick
Chapter 3: Aura's Hard Work
Intermission
Characters
Characters
New Characters

Beniri

Ovei

Sumono

Prune

Apple
Trivia
The title for Overlord Volume 15 was released in Overlord Volume 14.
The Volume was slated for release in Spring 2021 but it never came during that period likely due to the impact of the COVID-19 Pandemic which affected Maruyama's travel to a café where he normally wrote
Overlord.
In a New Years' message tweet Maruyama hinted that the story arc could be split into two books due to the amount of pages he had written which
numbered about 700 pages.
It was confirmed that the story arc would be spilt into two volumes in a tweet released by Maruyama on March 12, 2022.
The volume was originally stated to be 360 pages long, but later updated to 352 pages. With 352 pages it is the shortest Volume in the series.
To commemorate the 10th anniversary of Overlord's publication, a special edition will come with an illustration card book that includes 15 illustrations of the members of Nazarick such as Ainz and Albedo.
Gallery
Click on the images to enlargen them.