| | |
| --- | --- |
| | Spoiler Alert: WARNING! This page happens to contain a lot of heavy spoilers that are all originated from the Overlord Light Novel series written by the author Kugane Maruyama. To every Anime-only watchers and Manga-only reader out there viewing this warning, please mindfully consider your decision first before choosing to expose yourself on reading the information below. If you're not currently up-to-date with the main source material in the official books, do consider staying away from the page for non-spoiler sake until you actually read it first ahead of time. |

Ninja Mansion (忍者屋敷) is a room presumably located on the 9th Floor of the Great Tomb of Nazarick.
Background
[
]
The room was created by Garnet for Nishikienrai to serve as his personal playground while acting as a ninja.[1] It was also the location for the guild's "Ainz Ooal Gown High School Trip".[2]
Layout & Features
[
]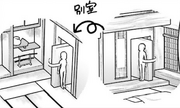 A Japanese-style room that includes sliding screen doors. The room was suppose to allow one to feel like a ninja. In addition to that, there are several gimmicks like a ceiling door and a revolving hidden wall.
Trivia
[
]
There are apparently many ninja mansions located in Nazarick made by Garnet.
A video production of the room was incorporated into Pachislot Ainz Ooal Gown.
There also is a Demon Seal Jar in a closet, but whether its a decoration or a trap is unknown.
References
[
]
[

]