| | |
| --- | --- |
| | Non-Canon: REMINDER! This page is considered as among one of the many pure game contents found exclusive in Mass for the Dead only. It includes the new standalone characters that had a first-time appearance in the game. Meanwhile, the old characters had a different role and fate than from the main storyline in the official books. For that reason, it has no connections to the canon story materials of Overlord Light Novel series. The content that you had read here are based on the Overlord mobile game. |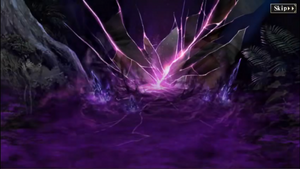 Miasma (瘴気) is a highly corrosive and poisonous gaseous dark purple mist that originates from Cracks in Mass for the Dead.
Overview
[
]
A mist that springs from the depths of the abyss of Cracks. It has a corrupting effect, causing animals and plants to go wild, creating Contaminated Beasts. Even the smallest particles that are invisible can still have an effect. Those who have some power in the New World are not totally immune to its corruption, though the level of tolerance depends on the individual.
The gas coincides when a Crack spews out Chaos Beasts at regular intervals. The substance is only dissipated once all the Chaos Beasts are defeated. However the contaminants contained within the miasma have been shown to not just affect fauna and living things, have some long-term effects on local flora and the earth, creating bizarre creatures.[1][2]
Trivia
[
]
References
[
]