| | |
| --- | --- |
| | Spoiler Alert: WARNING! This page happens to contain a lot of heavy spoilers that are all originated from the Overlord Light Novel series written by the author Kugane Maruyama. To every Anime-only watchers and Manga-only reader out there viewing this warning, please mindfully consider your decision first before choosing to expose yourself on reading the information below. If you're not currently up-to-date with the main source material in the official books, do consider staying away from the page for non-spoiler sake until you actually read it first ahead of time. |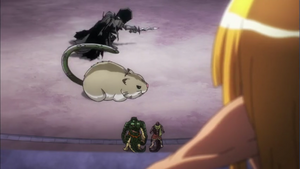 Nazarick's Martial Arts Experiment is a form of experimentation that was conducted under Ainz's order.
Objective
[
]
This experiment was meant to increase the Great Tomb of Nazarick's combat potential in the New World tremendously through acquiring access to its native power which is Martial Arts. Ainz is hoping that by performing the experiment, it can be determined whichever one of the denizens from Nazarick can level up as warriors and learn Martial Arts.
Procedures
[
]
The participants of the experiment are individuals who are not users of Martial Arts. At the same time, they have to be at least a powerful close combatant when trying to qualify for this experiment. Let alone the denizens of Nazarick like the Death Knights who are participating, new recruits such as Hamsuke from outside the tomb are allowed to join in on this experiment. The non-users of Martial Arts will be trained under users of Martial Arts who will instruct them in how to learn it. For instance, Great Lake's Lizardman who are comprised of Martial Art users, Zaryusu Shasha, and Zenberu Gugu are helping to teach them the ways of learning Martial Arts.
Moreover, while the summoned Death Knight's level was predetermined in YGGDRASIL, he was hoping it could no longer be the case as they are now in the New World that doesn't follow the game rules. Hence, Ainz had the participants including Hamsuke equipped several artifacts like a Powered Suit respectively to test out whether they are capable of leveling up as warriors.
Results
[
]
After extensive training, Hamsuke was able to use a Martial Art skill for the first time. However, Ainz's summoned Death Knight was unable to learn it after all the time spent training equally alongside Hamsuke. Furthermore, the Death Knight's level remains the same as always since wearing the artifacts during its training. This proves that the undead monster is incapable of neither acquiring experience points nor the potential to level up beyond their fixed level.[1] In the end, only one has managed to successfully learn a warrior-class skill and used it in battle[2] while the other failed to do so. By learning Martial Arts, it allows one to wear a full plate armor without setbacks. However, through becoming a Martial Art user, it was said that someone like Hamsuke can still make smooth movements with or without wearing a full plate armor.[3]
Trivia
[
]
Since the Death Knight created by Ainz can't learn Martial Art, this highly suggests the rest of its kind in the Sorcerer Kingdom's Army are also unable to obtain it as well.
References
[
]