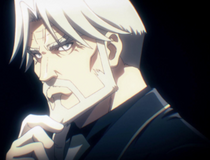 This article feels somewhat incomplete due to missing information. Unknown Intruder, the Overlord of the Wiki expects you to offer more details for the article along with fact checking it and giving citations to credible sources!
This article is a stub. You can help Overlord Wiki by expanding it.
Judging from the current state of this page, there is no available image on the Overlord Fandom as of yet to help emphasize its appearance. Since it is lacking visuals, this article requires an image for the first time, the kind which should be high quality and distinguishable.

Unknown Intruder

, you could go out of your way to assist the Overlord Wiki by adding an image that came from any Overlord adaptation to it. It cannot be a fan-art or fan-made. You must upload the official ones visually drawn by the main producers of the light novel, manga and anime adaptations.

Luisenberg Alberion (ルイセンベルグ・アルベリオン) is an adamantite ranked adventurer and a member of Red Drop.
Appearance
[
]
Personality
[
]
Background
[
]
At some point he became a member of the Adventurer group Red Drop.
Chronology
[
]
The Dark Warrior Arc
[
]
Main article: The Dark Warrior Arc
Luisenberg Alberion was mentioned by Clementine to be one of the few people in the Re-Estize Kingdom whom could put up a good fight against her.[1]
The Witch of the Falling Kingdom Arc
[
]
Main article: The Witch of the Falling Kingdom Arc
Given that only their leader, Azuth Aindra is left in the capital, it's likely that Luisenberg accompanied the rest of his team on a mission entrusted by his leader. He and his companions were given the order to escort their leader's nephew to the Argland Council State for his own safety. This was requested by his leader after the Sorcerer Kingdom declared war on the Re-Estize Kingdom after Azuth's brother came to the realization that the Kingdom was likely not going to win or survive the war.[2]
Abilities and Powers
[
]
It seems that he is a top-class warrior comparable to the likes of Gazef Stronoff, Brain Unglaus, and Gagaran.
Relationships
[
]
Both of them are colleagues who work together in the same team.
Trivia
[
]
He was one of the four people Clementine listed who are capable of fighting her on equal ground along with Brain, Gazeff and Gagaran.
Quotes
[
]
References
[
]
Gallery
[
]
Click on the images to enlargen them.
[

]