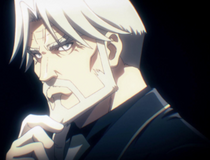 This article feels somewhat incomplete due to missing information. Unknown Intruder, the Overlord of the Wiki expects you to offer more details for the article along with fact checking it and giving citations to credible sources!
This article is a stub. You can help Overlord Wiki by expanding it.
Judging from the current state of this page, there is no available image on the Overlord Fandom as of yet to help emphasize its appearance. Since it is lacking visuals, this article requires an image for the first time, the kind which should be high quality and distinguishable.

Unknown Intruder

, you could go out of your way to assist the Overlord Wiki by adding an image that came from any Overlord adaptation to it. It cannot be a fan-art or fan-made. You must upload the official ones visually drawn by the main producers of the light novel, manga and anime adaptations.

Lilia (アラーナ) was a young girl from the Re-Estize Kingdom and the younger sister of Zach.
Appearance
[
]
No information was given on her appearance.
Personality
[
]
No information was given about her personality.
Background
[
]
Lilia was the younger sister of Zach. Before the reforms by Princess Renner Theiere Chardelon Ryle Vaiself were instituted and outlawed slavery, Lilia was sold by her poverty-stricken parents.[1]
Chronology
[
]
The Bloody Valkyrie Arc
[
]
Main article: The Bloody Valkyrie Arc
Whilst witnessing the slaughter of several members of Death Spreading Brigade, Zach was seduced by Solution Epsilon. When he touched her, he found himself being pulled into her body. His sister's name was the last cry he made as he disappeared into the Slime's body.[2]
Abilities and Powers
[
]
Like her brother, she was born a farmer and may have had only skills related to farming.
Relationships
[
]
Zach lived with his sister who managed to make his weariness from working in the fields disappear. Even after his parents forsaking her to her fate, Zach continued to hopefully find her.
Trivia
[
]
During his free time, Zach would try to find her in hopes she was among the prostitutes he fooled around with.
References
[
]
[

]