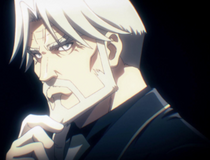 This article feels somewhat incomplete due to missing information. Unknown Intruder, the Overlord of the Wiki expects you to offer more details for the article along with fact checking it and giving citations to credible sources!
This article is a stub. You can help Overlord Wiki by expanding it.
Judging from the current state of this page, there is no available image on the Overlord Fandom as of yet to help emphasize its appearance. Since it is lacking visuals, this article requires an image for the first time, the kind which should be high quality and distinguishable.

Unknown Intruder

, you could go out of your way to assist the Overlord Wiki by adding an image that came from any Overlord adaptation to it. It cannot be a fan-art or fan-made. You must upload the official ones visually drawn by the main producers of the light novel, manga and anime adaptations.

Latimon (ラッチモン) is a ranger and resident of Carne Village.
Appearance
[
]
Personality
[
]
Background
[
]
Latimon is one of the local rangers living in Carne Village. Some time after former adventurer came to reside in Carne Village, the ranger took her under his wing.
Chronology
[
]
The Two Leaders Arc
[
]
Main article: The Two Leaders Arc
During an interview with Agu, Enri Emmot, Nfirea Bareare, and the Goblin Troop questioned him about the situation in the Great Forest of Tob. When learning of the existences of the Giant of the East and Demon Snake of the West, Brita commented she and her master never heard of them as they did not delve into the depths of the forest.[1]
Abilities and Powers
[
]
Latimon has skills of a hunter and a ranger.
Relationships
[
]
Currently Brita is serving as his apprentice and thus she refers him as Master.
Trivia
[
]
In Carne Village, the local rangers shared their kills in the past.
References
[
]
[

]