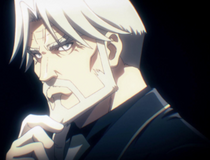 This article feels somewhat incomplete due to missing information. Unknown Intruder, the Overlord of the Wiki expects you to offer more details for the article along with fact checking it and giving citations to credible sources!
This article is a stub. You can help Overlord Wiki by expanding it.
Judging from the current state of this page, there is no available image on the Overlord Fandom as of yet to help emphasize its appearance. Since it is lacking visuals, this article requires an image for the first time, the kind which should be high quality and distinguishable.

Unknown Intruder

, you could go out of your way to assist the Overlord Wiki by adding an image that came from any Overlord adaptation to it. It cannot be a fan-art or fan-made. You must upload the official ones visually drawn by the main producers of the light novel, manga and anime adaptations.

Grant (グラント) is an Area Guardian of the Great Tomb of Nazarick.
Grant is an Area Guardian who holds a special position in the Great Tomb of Nazarick, as she protects areas scattered over many floors such as the 3rd and 6th floors.
Main article: The Undead King Arc
Grant was mentioned by Ainz Ooal Gown as one of the Area Guardians that needed to be informed of the situation that Nazarick was facing.[1]
Main article: The Emissary of the King Arc
When asked about his interpersonal relationships Cocytus says he is on good terms with Demiurge, Kyouhukou, Grant, and Gashokukochuuo.[2]
Main article: The Pleiades Day Arc
When Entoma Vasilissa Zeta expressed interest in weaving a web of her own, she stated that she did not wish to intrude on the domain of Grant.[3]
Grant is one of few NPCs in Nazarick, aside from the Floor Guardians, with a very high level, likely 90 or over.
Entoma greatly respects Grant and does not weave webs near her territory out of respect. This implies that Entoma and Grant are part of a similar race. Entoma even refers to her as 'our lady' or 'mother'.
Cocytus says he is on good terms with Grant.
Click on the images to enlargen them.
Community content is available under
CC-BY-SA
unless otherwise noted.