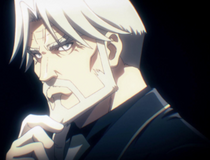 This article feels somewhat incomplete due to missing information. Unknown Intruder, the Overlord of the Wiki expects you to offer more details for the article along with fact checking it and giving citations to credible sources!
This article is a stub. You can help Overlord Wiki by expanding it.

Eight Fingers Leader (八本指リーダー) is the chairman of the Executive Council of Eight Fingers.
Appearance
[
]
He wears a holy symbol of the Water God on a necklace and has a compassionate face, belying his true nature as a denizen of the underworld.
Personality
[
]
Not much is known about his personality, he coordinates over a meeting of Eight Fingers.
Background
[
]
Chronology
[
]
The Men in the Kingdom Arc
[
]
Main article: The Men in the Kingdom I and The Men in the Kingdom II Arc
He held a secret meeting between the executives of the Eight Fingers in an undisclosed location to discuss various issues affecting the organization. He asks Hilma about the attack on her drug plantations, but Hilma doesn't know who the perpetrators are. The meeting continues, when he mentioned the newly emerged adamantite adventurer Momon of Darkness and if any of them know about him.[1]
After the demon invasion, he and the rest of Eight Fingers held a meeting which was interrupted by Aura and Mare who paralyze them, with the exception of Hilma who was already made into a servant. She proceeded to take them to Nazarick's torture chamber to be tortured and made into servants just like Hilma.[2]
Abilities and Powers
[
]
As the leader and coordinator of Eight Fingers, he has full authority in the organization.
Relationships
[
]
Trivia
[
]
Quotes
[
]
(To the heads of Eight Fingers): "Since we're all here, let's begin the regular meeting. There are several matters which need discussion, and the first of them is — Hilma."
(To Hilma): "I heard your drug plantations were attacked by someone?"
(To the heads of Eight Fingers): "Then, onto the next topic. Regarding the newly-minted adamantite-ranked adventurer Momon of Darkness… does anyone know about him, or have they made any overtures towards him?"
Gallery
[
]
Click on the images to enlargen them.
References
[
]
[

]