| | |
| --- | --- |
| | Spoiler Alert: WARNING! This page happens to contain a lot of heavy spoilers that are all originated from the Overlord Light Novel written by the author Kugane Maruyama. To every Anime-only watchers and Manga-only reader out there viewing this warning, please mindfully consider your decision first before choosing to expose yourself on reading the information below. |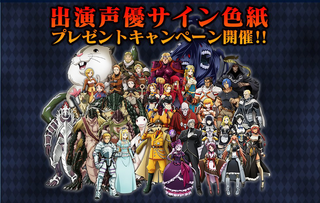 This page shows a list of characters who made their appearance known in the Overlord series.
Character's Affiliation (or Residence) that follows their first appearance.
Nine's Own Goal
Initial Members
NPCs of Nazarick
Others
Others
Others
Others
Others
Legendary Figures
Others
Others
Zern Tribe
Zoastia Tribe
Miscellaneous
Web Novel Characters
Bonus Volume Characters
Game Characters
Community content is available under
CC-BY-SA
unless otherwise noted.