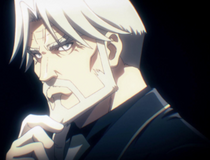 This article feels somewhat incomplete due to missing information. Unknown Intruder, the Overlord of the Wiki expects you to offer more details for the article along with fact checking it and giving citations to credible sources!
This article is a stub. You can help Overlord Wiki by expanding it.
Judging from the current state of this page, there is no available image on the Overlord Fandom as of yet to help emphasize its appearance. Since it is lacking visuals, this article requires an image for the first time, the kind which should be high quality and distinguishable.

Unknown Intruder

, you could go out of your way to assist the Overlord Wiki by adding an image that came from any Overlord adaptation to it. It cannot be a fan-art or fan-made. You must upload the official ones visually drawn by the main producers of the light novel, manga and anime adaptations.

Baron Bagnen (バグネン) is a baron of the Roble Holy Kingdom.
Appearance
[
]
Personality
[
]
Background
[
]
Baron Bagnen was a noble that ruled the small city of Loyts in the Northern Holy Kingdom. After Jaldabaoth conquered the northern territory, Bagnen's city was captured and placed under the control of Buser. The Baron was imprisoned alongside Prince Caspond Bessarez.
Chronology
[
]
The Paladin of the Holy Kingdom Arc
[
]
Main article: The Paladin of the Holy Kingdom Arc
The Holy Kingdom Liberation Army liberated his city, thanks to the efforts of Ainz and his High Wraiths. Baron was reported by the Prince, to have some minor wounds, but due to his poor physical condition and great exhaustion, he fell soundlessly asleep.[1]
Abilities and Powers
[
]
Relationships
[
]
The baron was a fellow inmate of the prince, and took care of him, during Buser's occupation of his city.
Trivia
[
]
Baron Bagnen fate is unknown after he was rescued.
Quotes
[
]
References
[
]
[

]