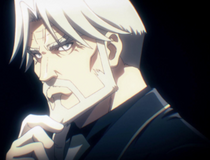 This article feels somewhat incomplete due to missing information. Unknown Intruder, the Overlord of the Wiki expects you to offer more details for the article along with fact checking it and giving citations to credible sources!
This article is a stub. You can help Overlord Wiki by expanding it.
Judging from the current state of this page, there is no available image on the Overlord Fandom as of yet to help emphasize its appearance. Since it is lacking visuals, this article requires an image for the first time, the kind which should be high quality and distinguishable.

Unknown Intruder

, you could go out of your way to assist the Overlord Wiki by adding an image that came from any Overlord adaptation to it. It cannot be a fan-art or fan-made. You must upload the official ones visually drawn by the main producers of the light novel, manga and anime adaptations.

Ancient One (エンシェント・ワン) is a guild member of Ainz Ooal Gown and regarded as one of the Forty-One Supreme Beings by the NPCs of the Great Tomb of Nazarick.
Appearance
[
]
Personality
[
]
Background
[
]
Ancient One had been with Touch Me and the other clan members since the founding of the Nine's Own Goal.[1]
Chronology
[
]
Abilities and Powers
[
]
Main Equipment
[
]
Ring of Ainz Ooal Gown: It allows the user to freely teleport between every room inside Nazarick. Every member of Ainz Ooal Gown was required to wear this ring.
Relationships
[
]
Among the former clansmen of Nine's Own Goal, he is the one who supported Momonga to be the guildmaster of Ainz Ooal Gown and liked his idea to clear an unknown dungeon.
He agreed with Warrior Takemikazuchi's idea to clear an unknown dungeon, stating that the game was meant for the players to thrust themselves into danger.
Trivia
[
]
Quotes
[
]
(To his Guild Members): "I agree with Take-san's sentiments. Don't you think it's great? We'll start off our guild with a bang. After all, wasn't it those very same fools who obtained that World Item in the first place? Or why don't you look at it from the basics. This game was meant for players to thrust themselves into danger. With that in mind, isn't clearing an unknown dungeon a good thing? Let's become a guild that does this sort of thing."
References
[
]
Gallery
[
]
Click on the images to enlargen them.
[

]